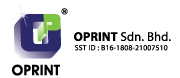 Phone: 03-8060 2498

​Whatsapp: 012-381 2498

Email: sales@oprint.com.my
Artwork Design

1. Do you offer artwork design services?
No. You have to create and upload your own design and we will do only the printing.

2. Does OPRINT provide artwork proof checking services?
No. You have to confirm the final artwork before uploading it to us for printing.

3. What file format should I use to save my artwork?
For all our products, we accept the artwork in Adobe Acrobat Document (PDF), Jpeg, Tiff and eps only. Customer only needs to provide 1:1 measurement, 150dpi,
CMYK color pdf, eps/tiff/jpeg file.

DO NOT use Office software or paint software

DO NOT use pictures downloaded from the internet as there will be a chance that it may not be clear or picture might be pixilated.
Recommended to consult a professional designer to handle the artwork, ensuring the artwork will meet the requirements.




All artwork must include 2mm bleed for offset print, 5mm for digital print, for Large format printing or inkjet printing, no bleed require (if artwork is to run to
edge of product)

4. How do I send my artwork?
You have to upload your file to us after you have login to our ePrinting System.

5. Can I change my design after submitting it?
No changes can be made to the artwork once submitted to OPRINT for printing. Only amendments required to correct and complete pending jobs will be accepted.

6. Can I order my business card in other sizes?
No. Please follow our product sizes. These are the sizes that we highly recommend that serve majority needs.

7. Will the color of my printed product match 100% to the original color of my artwork?
NO. It is a known fact within the printing industry that 100% process color accuracy is not presently possible with the current print technology. Therefore, even if a
printing company were to employ highly experienced personnel including the latest press technology, the outcome of color of the printed product will always differ
from the original artwork. The level of difference however is subject from printing company to printing company.

8. Can I use OPRINT to print anything I want?
Yes you can, as long as what you are printing does not conflict with the Malaysian printing and publication law. OPRINT will not print jobs that contain offensive
literature or images. This includes information that are politically, religiously or racially, sensitive. OPRINT will not be responsible for any infringement of artwork
content.