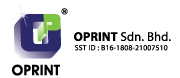 Phone: 03-8060 2498

​Whatsapp: 012-381 2498

Email: sales@oprint.com.my
How to Pay For My Order

1. How do I pay for my order?
OPRINT is practicing prepaid system. In order to join as OPRINT Member, you need to deposit at least RM50 (Reloaded amount must be rounded up RM 50s. i.e:
RM50s, RM100s, RM150s etc.) into your ePrinting account as your cash advance to begin with.
Each time you make an order, the payment for it will be deducted from the cash advance in your ePrinting account. Therefore you must have sufficient funds in
your account to pay for your order. You may top-up/reload your account anytime.

2. How do I reload my ePrinting account?
For Cash Deposit, 3rd Party Funds Transfer or cheque, please bank in or make cheque payable to OPRINT SDN. BHD. :
• Maybank , account number 5128 8406 4029

3. What is the recommended amount to reload into My OPRINT Account?
The minimum reload amount is RM50.00. Extra charges for banking fees (if required) is to be borne by the member if payment is less than RM50.00.

4. What is the purpose of cash advance?
Cash Advance serves as advance payment for your future orders. Each time you make an order, payment for it will be deducted from the cash advance in
your account. You can reload your account whenever necessary.

5. Will I get an official receipt for my reload?
You can print out the receipt from your Top Up History.

6. Will I get any invoice for my order? And how will I get it?
You can trace your order and print your invoice by accessing your main account Order History.

7. Will OPRINT invoice my customers?
OPRINT only deals directly with Members. As such, we will only issue invoices to you and not to your customers.

8. How do I report a billing error to OPRINT?
Send us an email or call our Customer Service for reporting the error. Describe the problem to us and we will get back to you as soon as possible.