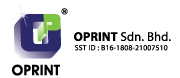 Phone: 03-8060 2498

​Whatsapp: 012-381 2498

Email: sales@oprint.com.my
About Oprint
Welcome to OPrint!
OPrint's online ordering, proofing and fulfilment system connects your business with a unique, secure one-on-one direct link to printing your collateral. Whether you're working from home or running a fully-fledged business, OPrint offers you the opportunity to build your company a brand name that's strong and vibrant, 24 hours a day, 7 days a week through our order centre. From first click to final delivery, you'll be treated with a level of professionalism and attention to detail no other printer can match, at enviable prices.
Benefits for using OPrint's Online Printing:
• Streamline your print procurement process, saving time
• Improve communication both internally and externally
• Gain immediate access to information, order status, costs and more!
We are dedicated to providing customers and businesses of the best bunting printng services, minus the exorbitant prices. Though years of experince and a seizeable network of partners, we are able to offer the most cost effective solutions for all kinds of needs.
Our Vision
To become the nation' top of the mind provider for quality affordable bunting printing services.
Our Philisophy
To assist all customers in saving valuable time and operational costs, hence allowing to focus on growing their business effectively.
Serve with passion
Every effort is made to go the extra mile for clients. If there is a complaint, we will handle it. If there is a problem, we will fix it. From the initial proposal stage to final delivery, we place top priority in the satisfaction of a job well done.
Solutions-oriented
Ultimately, our customers consult us for solutions. Thus for every project, we take time to understand their specific needs, preferences and constraints. With these, we are able to always recommend the best customised services at reasonable value.
Speed matters
We take deadlines very seriously, because they mean everything to today's customers. Our experienced team of project managers and skilled technicians ensures that every project is delivered efficiently and promptly according to your timeline.
See the future
Who says that printing is a sunset industry? For us at Oprint, printing goes beyond traditional boundaries. As a proud company of the 21st century, we are constantly pioneering new methods to ensure greater convenience, quality and value for our clients.
Account Details :
Banker information : Maybank Berhad
Account Number : 5128 8406 4029
Company Name : Oprint Sdn Bhd
Mengenai Oprint
Selamat datang ke OPrint!
Sistem tempahan pesanan, pemeriksaan dan pemenuhan dalam talian OPrint menghubungkan perniagaan anda dengan satu pautan langsung yang unik dan selamat untuk mencetak cagaran anda. Sama ada anda bekerja dari rumah atau menjalankan perniagaan sepenuhnya, OPrint menawarkan peluang untuk membina nama syarikat anda yang kuat dan bersemangat, 24 jam sehari, 7 hari seminggu melalui pusat tempahan kami. Dari klik pertama hingga penghantaran akhir, anda akan diperlakukan dengan tahap profesionalisme dan perhatian terhadap detail yang tidak dapat dipadankan pencetak lain, dengan harga yang dicemburui.
Faedah untuk menggunakan Percetakan Dalam Talian OPrint:
• Menyelaraskan proses perolehan cetakan anda, menjimatkan masa
• Meningkatkan komunikasi secara dalaman dan luaran
• Dapatkan akses segera kepada maklumat, status pesanan, kos dan banyak lagi!
Kami berdedikasi untuk menyediakan pelanggan dan perniagaan perkhidmatan cetak bunting terbaik, tolak harga yang terlalu tinggi. Walaupun bertahun-tahun experince dan rakan kongsi rangkaian yang dapat disimpulkan, kami dapat menawarkan penyelesaian yang paling kos efektif untuk semua jenis keperluan.
Visi kami
Untuk menjadi pembekal minda negara untuk perkhidmatan percetakan bunting yang berkualiti tinggi.
Falsafah kami
Untuk membantu semua pelanggan dalam menjimatkan masa dan biaya operasi yang berharga, dengan itu membolehkan memberi tumpuan kepada usaha mengembangkan perniagaan mereka dengan berkesan.
Berkhidmat dengan semangat
Segala usaha dilakukan untuk meningkatkan jumlah pelanggan. Sekiranya ada aduan, kami akan mengatasinya. Jika ada masalah, kami akan memperbaikinya. Dari peringkat cadangan awal hingga penghantaran akhir, kami meletakkan keutamaan dalam kepuasan kerja dengan baik.
Berorientasikan penyelesaian
Pada akhirnya, pelanggan kami merujuk kepada kami untuk penyelesaian. Oleh itu bagi setiap projek, kami mengambil masa untuk memahami keperluan, keutamaan dan kekangan mereka. Dengan ini, kami dapat sentiasa mengesyorkan perkhidmatan yang disesuaikan dengan nilai yang berpatutan.
Perkara kelajuan
Kami mengambil masa tamat dengan sangat serius, kerana ia bermakna segala-galanya kepada pelanggan hari ini. Pasukan berpengalaman kami pengurus projek dan juruteknik mahir memastikan setiap projek dihantar dengan cekap dan segera mengikut garis masa anda.
Lihat masa depan
Siapa kata percetakan itu adalah industri matahari terbenam? Bagi kami di Oprint, percetakan melampaui sempadan tradisional. Sebagai sebuah syarikat yang bangga pada abad ke-21, kami sentiasa merintis kaedah baru untuk memastikan kemudahan, kualiti dan nilai yang lebih baik untuk pelanggan kami.
Butiran Akaun:
Maklumat jurubank: Maybank Berhad
Nombor Akaun: 5128 8406 4029
Nama Syarikat: Oprint Sdn Bhd